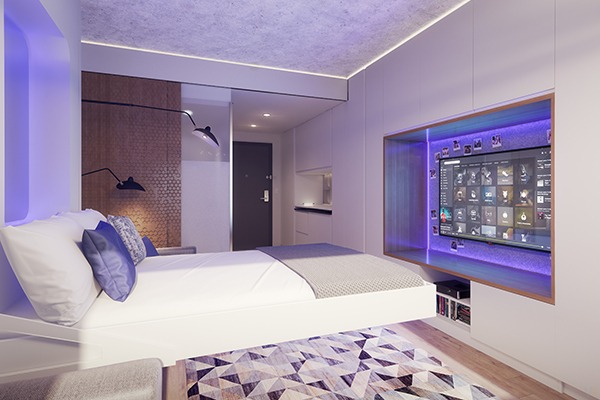 Yotel has announced a new venture into the extended stay segment with the launch of the YotelPad brand.  Building on the design principles of Yotel and YotelAir cabins, YotelPad translates the essence of serviced apartments into purposefully designed compact homes, known as Pads.
"Following the successful roll out of YotelAir and Yotel, we saw a natural opportunity to rethink the traditional extended stay segment in the same fashion we disrupted conventional hotel models," comments Hubert Viriot, CEO of Yotel.
Optimising space and technology, standard Pads will start from 215ft2, and feature Yotel's adjustable SmartBeds, en-suite bathrooms, fully equipped kitchenettes and storage space.  Yotel's signature Technowall will also enable easy connectivity and personalisation to create a sense of nostalgia.
Jo Berrington, Vice President of Brand at Yotel, explains: "YotelPad will transcend traditional boundaries with a blend of hotel-quality standards and home-like comforts, all achieved through our signature design DNA making the most out of compact spaces. Not only does this allow each guest or owner to have a fully functional private pad, but with the added benefit to work, connect, relax and socialise in multifunctional and fun spaces, creating a strong sense of community."
Elsewhere, communal areas and amenities will be programmed to the local environment and can include 24/7 gyms, bicycle storage, Amazon lockers, laundry, a home cinema and library – as well as the brand's signature Club Lounge, for co-working, meetings and events.
"True to the Yotel brand, Pad will be underpinned by our passion for technology and innovation; our seamless digital guest experience delivered via the YotelPad app. In addition to the obvious app functionality of booking and checking in and out, our app will be your digital key and a go to place for ordering amenities and food-to-go. Acting as a pocket size virtual concierge, the app will connect you directly to a range of services and experiences in the local community," continues Berrington.
YotelPad will launch globally with the five projects already confirmed in North America, Europe and the Middle East, the first two being in Utah and Downtown Miami.  YotelPad Park City is located at Utah's Park City Mountain, the largest ski resort in the US and will be developed by Replay Destinations, a Vancouver-based company focusing on the planning, design, development and operation of resort destinations. The second property, in Downtown Miami, will form part of a mixed-use development including 250 Yotel cabins and 208 Pads by the Aria Development Group, who focuses on building and acquiring premier residential and mixed-use properties.
Viriot adds: "The added benefit of introducing YotelPad to our portfolio, is that it not only allows us to enter a new market segment, but also enables us to operate in new locations, not naturally suited to our Yotel and YotelAir brands. Our recent partnership with Replay has been extraordinary – realising just how much potential there is for our new brand in the destination resort market.  We are confident that YotelPad Park City will be a tremendous success and we are now looking at multiple opportunities with Replay."
YotelPad Park City and Miami will be followed closely by two YotelPads in the Geneva Lake region – set to be developed by M3 Real Estate – and Yotel Dubai in Business Bay, which will also feature YotelPads as part of the development.
"Alongside our existing brands, we see huge potential for the development of YotelPad globally. YotelPad can be stand-alone or form part of a mixed-use development including a Yotel. Each pad will be operated by Yotel and can be owned by individual or institutional investors," concludes Viriot.