A remote island hideaway and a model for sustainable tourism opens on Panama's
 

wild Pacific Coast, writes Emma Love.

Twenty miles off the Pacific Coast of Panama in the Gulf of Chiriqui, Islas Secas is a private island archipelago that recently opened to travellers as a luxury eco resort. It has all the ingredients of a classic castaway paradise; lush islands blanketed in forest, deserted white sand beaches backed by palm trees, and turquoise water made for snorkelling. So it's no wonder that it was snapped up by American billionaire hedge fund manager and conservation philanthropist Louis Bacon in 2009, who, from the get-go, wanted to protect the abundance of birds, plants and marine life, as well as the tranquillity he found here. 

To start with, the decision was made to limit development to the largest island, Cavada, and leave the other 13 completely untouched. Currently, there are just four red cedar and mahogany casitas – ranging in size from the one-bedroom 51m2 Casita Mirador to the four-bedroom 207m2 Casita Grande – designed by San Francisco-based architects Hart Howerton and developed by Jim Matlock, founder of Pacific Panama and Director of Operations, who has been living and working on the archipelago for over a decade. "Sustainability comes from the materials but also from the quality of the building," he explains. "These casitas will still be here in 100 years."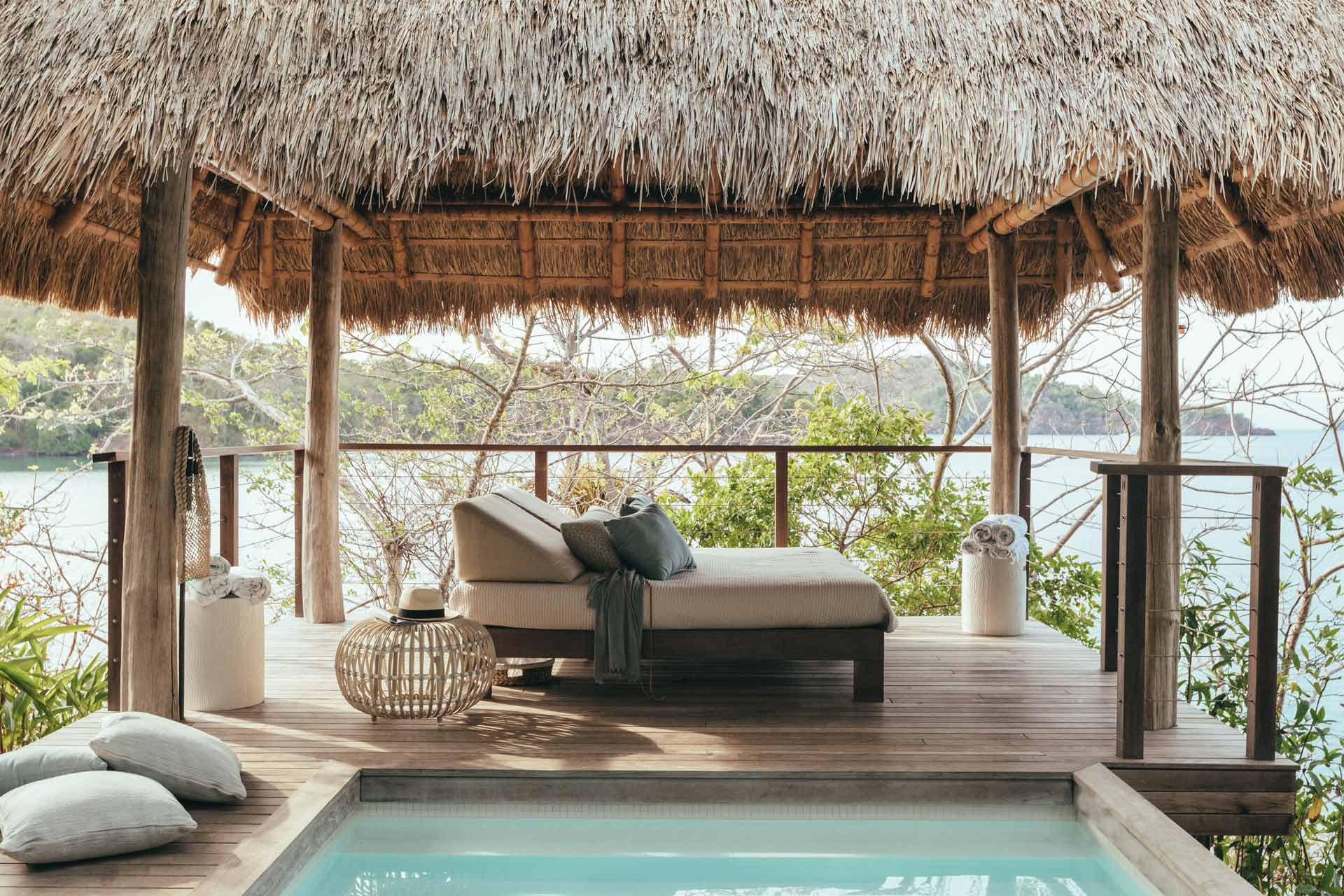 Each casita is set in its own tropical garden with a plunge pool, day bed and thatched cabana for outdoor dining. Inside, the look is simple with floor-to-ceiling wooden shutters that can be opened to make the most of the breeze, and reclaimed teak four-poster beds designed by Tom Scheerer (he was responsible for the first phase of the interiors), made in India. Maira Koutsoudakis, founder of South African design agency The Life Group of Companies, was brought in to add the texture by way of gorgeous two-tone linen bedcovers, reclaimed timber plantation chairs with duck-egg blue backs, bamboo mirrors in the bathroom and coral sculptures above the mini-bar that nod to Coiba National Park, a UNESCO World Heritage marine reserve nearby. "We wanted to create subtle refuges of calm, awash in tones of sage, teal, linen and white," says Koutsoudakis, who is designing the interiors for three new, one-bedroom tented casitas.
Also in the pipeline is a four-bedroom 647m2 residence with a separate guest wing and a curved roof. "The shape of the residence has been determined by the topography," says Matlock. "We're using eucalyptus logs, both for the roof and as structural columns so it will look very unique, as if it has been here for years. We can't find anyone who's done anything like this, certainly not in Panama." 
Equally interesting are the two complex guadua bamboo structures designed by specialist Colombian architect Simón Vélez; one down by the dock used as the watersports hub (there are all kinds of toys to try from e-foils and seabobs to SUPs and surfboards) and the other as the ocean-facing, cathedral-like Terraza restaurant, reached by walking along a wooden boardwalk lit by lanterns. The indoor-outdoor space has a relaxed feel, with custom verde cipollino-veined marble tables and rope armchairs made by artisans in South Africa. Beyond the wooden decking, steps lead down to a sandy hang-out area with seagrass beanbags, high-gloss turquoise ceramic stools, decorative glass buoys and lounge cushions. "We wanted to create a journey within Terraza," says Koutsoudakis. "The top end of the space has a more formal feel, then towards the ocean there is a change of pace, so it becomes a gypsy-chic experience with natural elements alongside local Panamanian pieces, such as the colourful 'pollera' pompom cushions that reference traditional tribal Embera and Kuna style."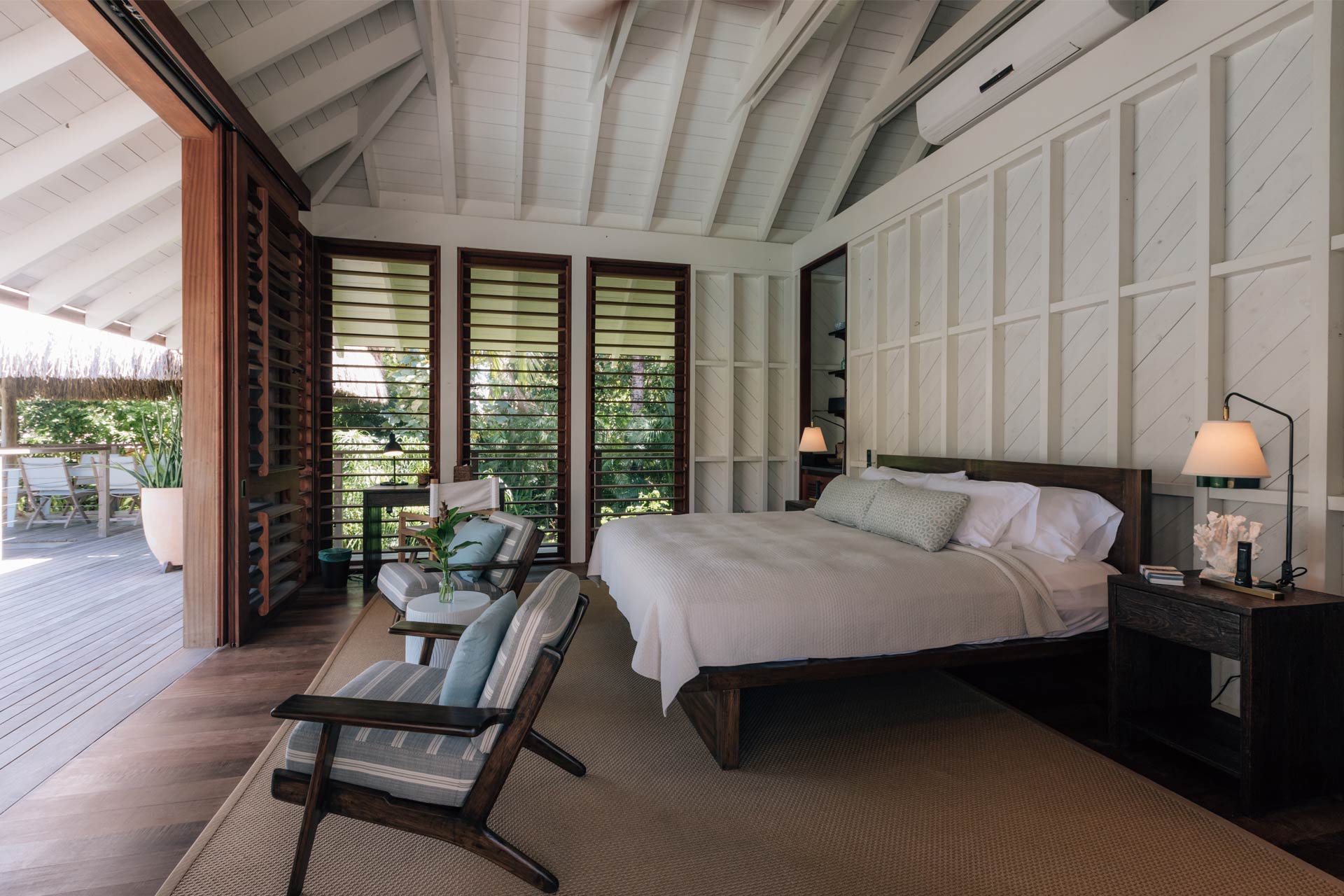 These references are subtly scattered throughout, from the woven turndown mats in the casitas to the patterned 'mola' cushions made by the Embera tribe and the carved wooden piroga boats that hold the pool towels. "We started the process with visits to the Embera villages in the jungle and with the Kuna people, to immerse ourselves in the local crafts, as well as trips to the Museum of the Mola in Panama City and the Bio Museo by Frank Gehry. Panamanian designer Annie Chajin helped us liaise with the two predominant tribes to physically produce these pieces in their own inimitable style but with a contemporary spirit," Koutsoudakis continues.
There's also a peaceful main pool lined with day beds, two tented spa treatment rooms surrounded by forest, the odd hammock and rope swing strung up between palm trees along the sand, and the Hemingway-inspired bar and lounge – a popular spot for pre-dinner cocktails – with a board games nook and mini library. Behind the reclaimed teak bar itself is a specially-commissioned bronze rooster fish sculpture by artist Peter Diepenbrock; there's also a display of Panama hats, slouchy linen sofas, low marble coffee tables and a drinks cabinet with a display of Embera masks, rum tasting jars, heritage humidors and muddle sticks made from tribal flutes. 
The entire property is powered using solar panels, which are set up along the airstrip. But that's not all; other impressive sustainable measures include all food waste being recycled and wastewater reused for irrigation. Matlock, though, still has plans to do more. "We want to grow as much as we can so have just built a greenhouse on the mainland and this year we are planting lots of banana and pineapple trees on Cavada. We're also doing a trial with three Angus cows – the idea is to have 18 – and we're expanding our composting and recycling too." Under such eco-minded, forward-thinking stewardship, the hope is that this dreamy archipelago remains pristine and unspoilt for generations to come.
EXPRESS CHECK-OUT
Owner: Louis Bacon
Architecture: Hart Howerton, Craig Roberts, Pacific Panama, Simon Velez
Interior Design: Tom Scheerer, The Life Group of Companies, Simon Velez
Branding: Diffusion Digital
Landscaping: Hiedra Y Bambú
Main Contractor: Pacific Panama Construction
www.islassecas.com

CREDITS
Words: Emma Love
Photography: © Jack Johns and Owen Tozer