Having recently published design proposals outlining what a hotel in the post-Coronavirus world might look like, Jonathan Manser – CEO, The Manser Practice – checks in with Sleeper to talk adaptation and innovation in the face of crisis.
---
What do you think will be the initial, short-term effects the Coronavirus pandemic has on the way hotels are designed?
Something we saw happening more and more in the hotel and private rental sectors was less concentration on facilities in the bedroom, and more focus on the public spaces – with the latter designed to encourage guests into the restaurant or bar. If anything, there might now be a tendency for bedrooms to be designed as places to spend more time, and we may see elements like exercise machines coming up, and a more coherent working space than the current standard. By definition, that probably means rooms becoming larger, and public spaces becoming less popular – and perhaps smaller if they become less profitable. Guests will be more likely to enter public spaces only when they need to – for specific items or reasons rather than just taking their laptop down to the lobby. If this is the case, we'll see much more focus on room service as it becomes used more readily, and thus the removal of elements like the coffee machine, that some guests might see as unhygienic. This probably also means the death of the guestroom telephone, and I think rather than have soaps, sanitiser, shampoo and bathroom amenities waiting for guests, we could see a situation where those items are picked up in a sanitary bag on check-in.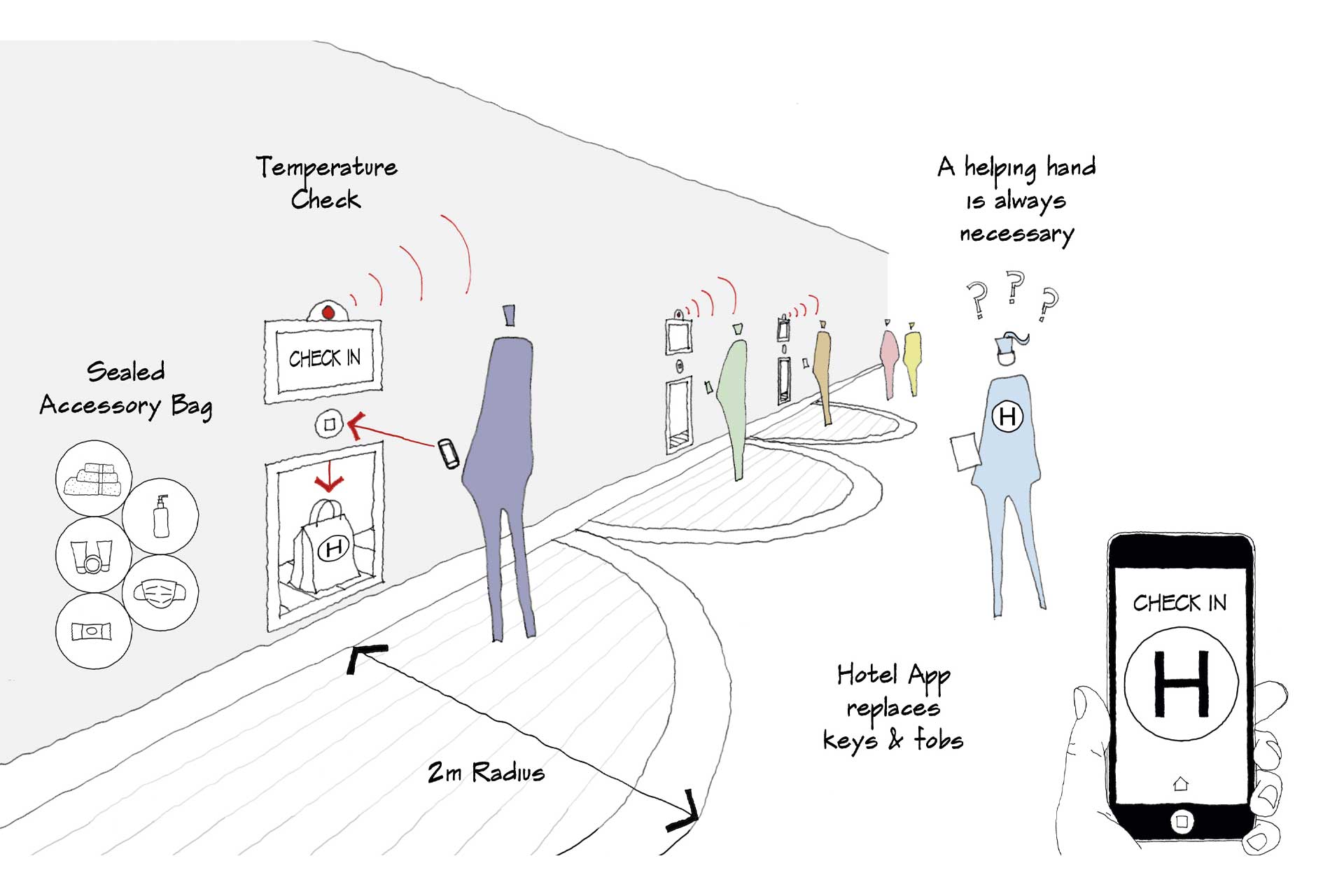 What will the human element of hospitality look like in this scenario?
Guests will still want to see a human face, but I think there may be a halfway house of sorts where you can check in with a phone or card via machine, with your sanitary bag of amenities picked up here too. All the information you'll need is there, but there's a member of staff in the background with a tablet to assist if needed. This is already how it's done in some hotels, where there's a key card and you don't have to be handed anything, but it means you can still welcome guests and be a friendly face, but you don't need to get too close. Help and assistance will always be there if you ask for it. Moving through the hotel, we've proposed room service that could be pushed through hatches by the door, which would reduce the need for anyone coming into your room, and give the guest slightly more comfort in terms of security and health risks. Again, there have been hotels that have done this sort of thing for a long time. The Scotsman in Edinburgh had it 30 years ago, and we may now see others adopting it.
Will guests be drawn to more independent experiences like those serviced apartment models offer?
What hotels will be able to offer now is a much more structured and certified means to let guests know that you can come and stay here and you can be sure it's clean, and the preparation and service of food meets a certain standard. We can guarantee that in a way that private operators and Airbnb cannot – it's a staffed, structured organisation that can provably demonstrate things are done properly; somewhere you'll be more important than the Airbnb guest who checked in who-knows-how-long ago, how they left the place and how well it's been cleaned.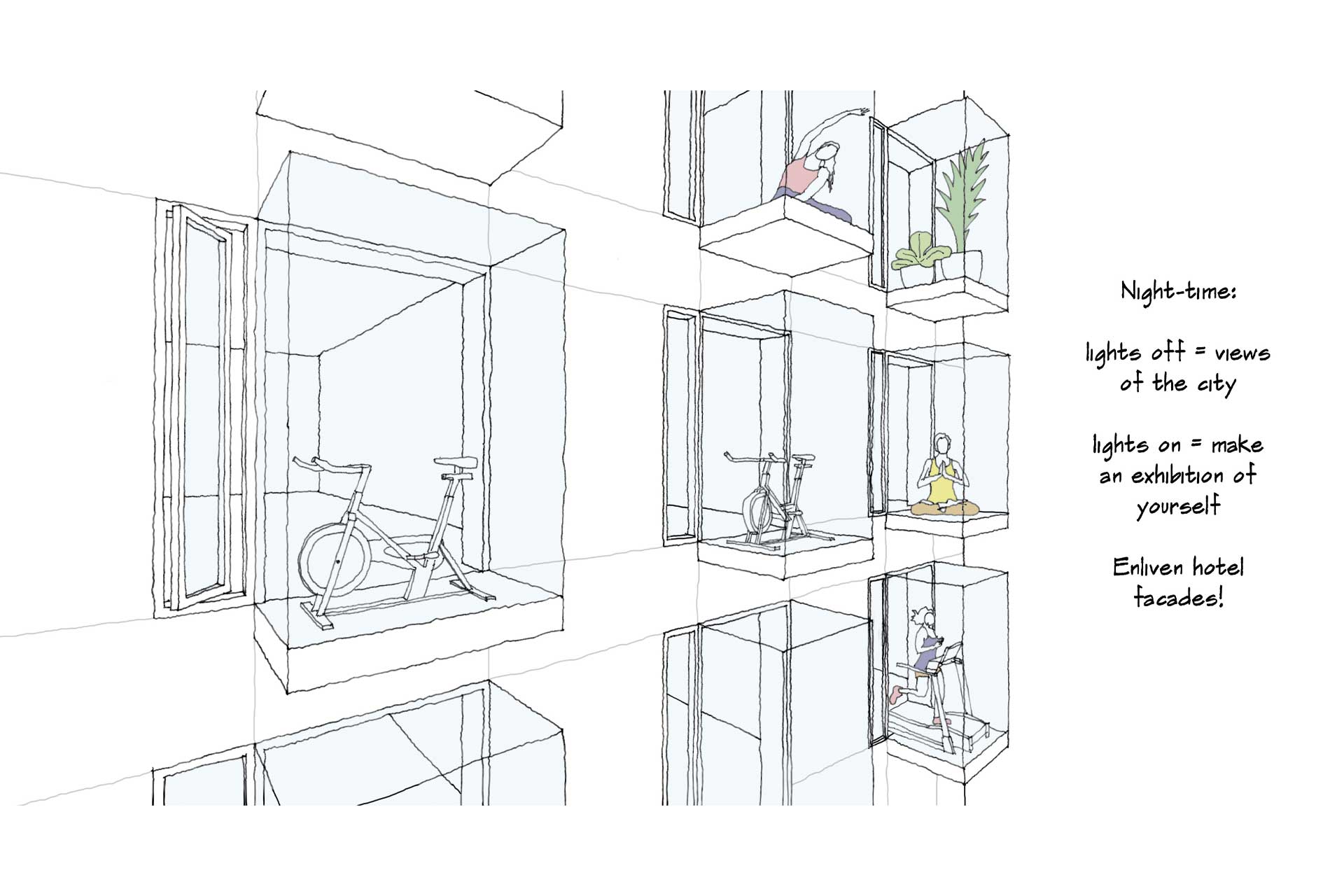 Are these proposals more suited to newbuild projects? How could existing hotels be adapted to cater in the post-COVID world?
I think the adaptation would be in the organisation and management of the hotel. The sort of things we're suggesting could be part of a proper refurbishment, particularly the technology side like the check-in. Obviously it's always easier to get a lot of this stuff into a newbuild, but even elements like the paternoster we included in the sketches can add a lot to the theatre and drama of a hotel. And this will be a big part of getting guests back in – reigniting that drama and experience that you can't get in a serviced apartment. Something like the paternoster going up an atrium brings another layer to that, adding to the enjoyment of going up and down the building. It obviously wouldn't work somewhere like The Shard, where you want to get up and down fairly quickly, but like everything it'll work in some contexts and not in others, and at some point in the near future we will have to look at an alternative to the current lift. I'd be much more comfortable, at the moment, checking in somewhere I can take the stairs rather than a small lift with a group of other guests.
When hotels bars and restaurants reopen – where guests are inherently close together, and revenue is tied to a lot of people being in the room – is there a design solution that could see guests in close proximity whilst keeping them safe?
I think we're still struggling with this one; whether it's two metres or one metre apart it makes an enormous difference. Bars and restaurants in London will start to reopen in a few weeks time, but I've seen some places already serving punters outside, in groups of three of four like you would have seen a few months ago. It's not feasible year round with our weather, so it'll be much different inside, but it makes you wonder how worried people will be. Roof terraces will become more appealing, because we'll still see it as being safer outside than it is indoors with a large group, and I think restaurants will ultimately end up looking at spacing, with less covers and more room. It's difficult in terms of revenue, but for the guest it will increase privacy, and you won't be so close to the next table, better able to hear your conversation and not bump chairs when you get up. There's been all sorts of ideas how to cope with this, but my personal feeling is that it might lead in the end to hotels having fewer offers, in terms of number of restaurants, but more space within then, and a more structured way that the food or drink is served – maybe something like the archetypal American buffet, or a served adaptation of this. And it will also raise questions about things like minibars, which have been disappearing for a while but might come back as more of a vending machine form, storing clean glasses and you can be sure are properly sanitised, as well as other things for the room.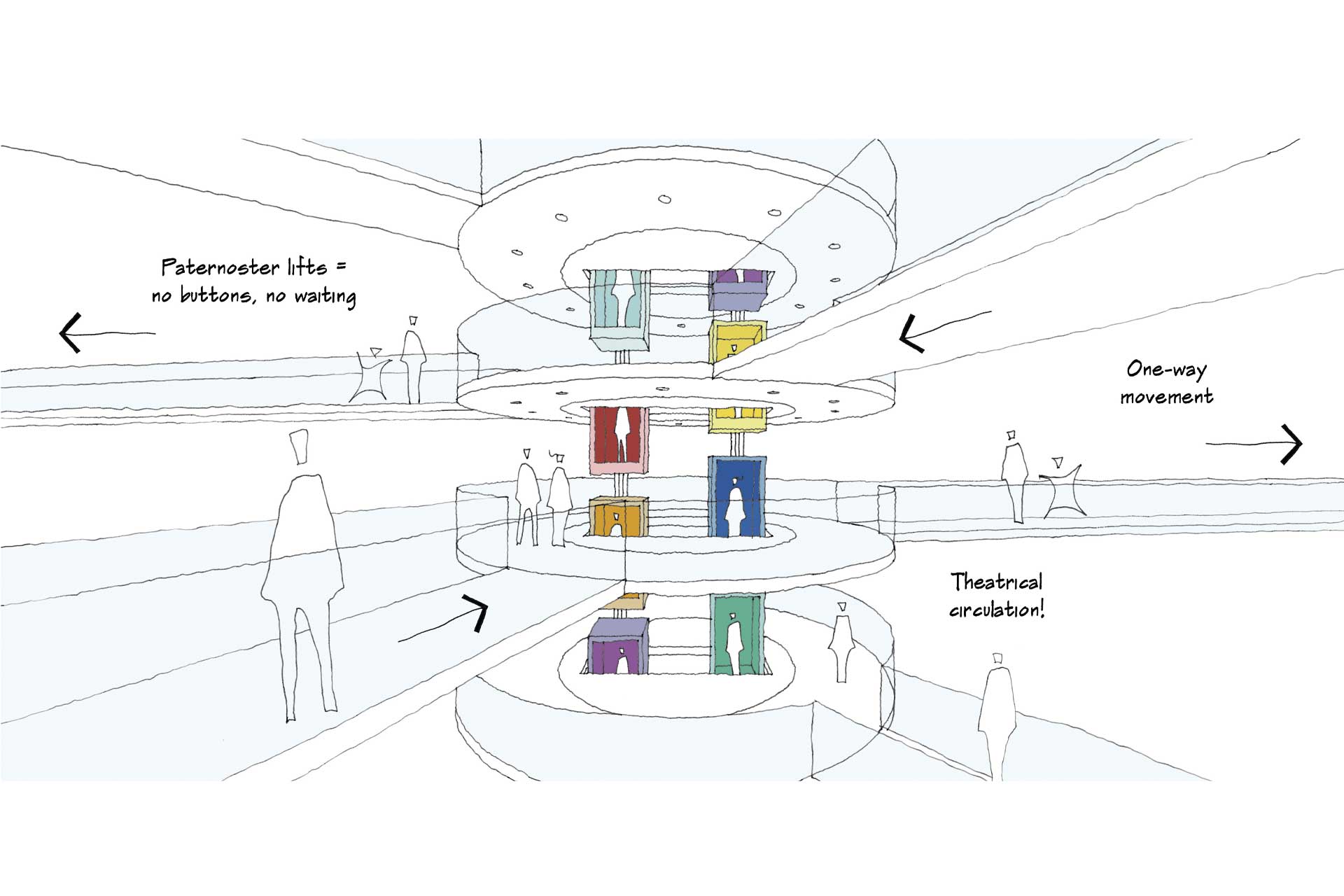 Could the screens we're seeing in some restaurants make a comeback?
I've seen the ones they've been putting into bars in Sweden, which look to be big perspex windows on wheels, and I think the problem they pose is that they make serving very difficult. They also make it difficult for people getting up to use the toilet, and there's an enormous amount of operational issues keeping them clean – not just sanitised, but visually clean. There will be some screening, but it'll be different to what we're seeing at the moment, partly because social distancing will become more relaxed, and having seen a few people around the area, they tend to forget after a couple of pints anyway. It'd be the same with colour-coded way-finding carpets, which have also been mentioned as a solution. These would have coloured lines that show you where to go, but it'd likely work for two minutes before most people stopped paying attention.
Do you think the pandemic will ultimately drive any innovations in hotel design?
Yes, because I think you have to assume this isn't going to be the last pandemic – there might well be others. There are public WCs in France where the whole things gets steam cleaned after each use, and building on that we've been looking at whether there could be a way to use the sprinkler as a misting sanitiser, and for spaces to have some kind of clear sanitiser in the air flow system. The current air conditioners are quite sophisticated, but there's a large amount of recirculation, and I think we'll be installing very specific sanitising filters into the newer models. As a result, guests might have to get used to feeling more movement of air internally, but feeling and knowing that there's a higher level of hygiene will give people confidence about going into and using public spaces. People already worry about catching colds on aeroplanes and the underground, and now that concern will shift into small spaces. In terms of ventilation and air conditioning, though, there's something you can do about that.
---
CREDITS:
Words: Kristofer Thomas
Images: Courtesy of The Manser Practice