1 Hotels opens flagship resort in Hawaii
Luxury lifestyle brand 1 Hotels has announced the opening of 1 Hotel Hanalei Bay, its flagship nature and wellness-focused island hotel. 
The property finds home overlooking a storied stretch of Kauai's North Shore on Hawaii's famed Garden Island, with the peaks of the Namolokama and Mamalahoa mountains rising overhead. The renovated development comprises 252 nature-inspired rooms, including 51 suites, all of which evoke a sense of sacred place and space. Decor sees the inclusion of authentic features like hand-woven floors fashioned from local black basalt, reclaimed teak and abaca furniture and traditional punai daybeds. Three signature suites meanwhile offer ocean and mountain views from private terraces.
Much of the original building has been removed and replaced with streams and gardens. Reclaimed teak joists, puka lava stone walls and ceilings hand-woven from abacá, a natural leaf fibre harvested from a cousin of the banana tree, are locally sourced. "If you can't find it in nature, you won't find it here" is the biophilic design principle that inspired the resort's $300 million transformation. Indigenous and endemic vines and plants weave through low-impact structures that blend seamlessly into their surroundings. The multi-year conservation plan replaced non-native and invasive species with wildlife-friendly vegetation including white hibiscus and nau, native to the Hawaiian Islands. Conscious conservation techniques narrate the sacred story of the Polynesian people, restoring nearly a third of the site with native and adapted vegetation.
"Hanalei Bay is the culmination of everything we've sought to achieve with the 1 Hotels brand," says 1 Hotels' founder and Chairman Barry Sternlicht. "What makes the opening of this property such a special moment for me is that my family and I vacationed in the area for decades. When I first visited, I found the existing hotel not in keeping with its natural landscape. I had a vision of creating an extraordinary resort that would combine the magic of a lush native landscape with the region's rich culture and history.
"We've brought that vision to life with a unique hospitality experience that pays tribute to these wonderful local traditions where nature is the CEO, where the building integrates with the boundless beauty of its surroundings, and all our guests can experience the wellness, soothing and healing properties of the extraordinary island of Kauai."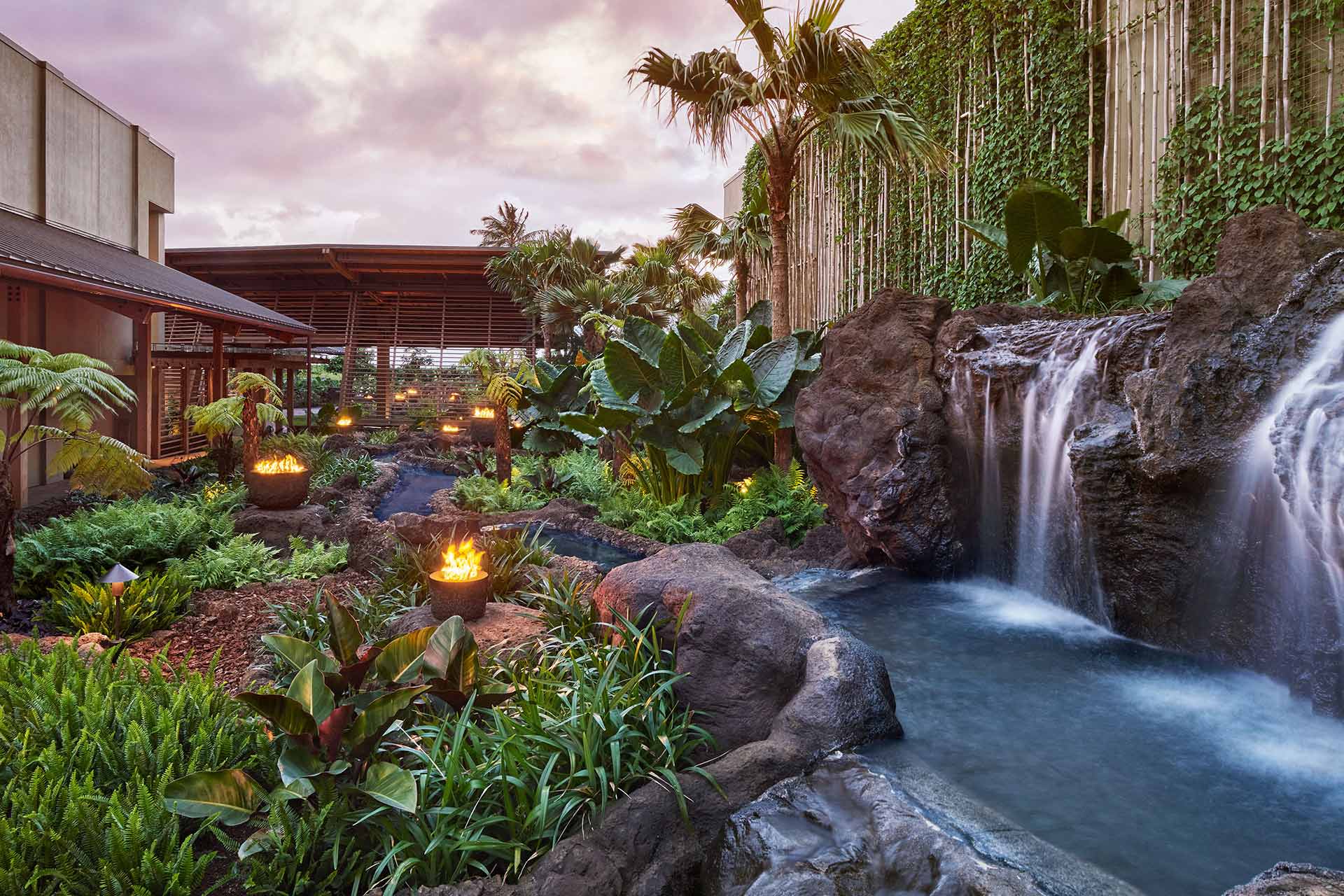 Opting for reconstruction enabled the resort to make its start as sustainably as possible. In collaboration with local partner RE-use Hawaii, nearly 150 tonnes of on-site furniture, fixtures, equipment, and other materials were salvaged, reducing greenhouse gas emissions. 1 Hotel Hanalei Bay is on track to operate as a 100% Certified Carbon Neutral and TRUE zero-waste certified property, in line with the brand's other US properties. 
Sustainable practice is set to continue beyond the site's initial reconstruction. The winged structure's verdant green roofs reduce and filter stormwater runoff, mitigate the effects of heat and improve air quality through carbon sequestration. Planted with pili grass, pohinahina and nanea, the roof hosts an organic chef's garden from which fresh herbs, vegetables and micro-greens are harvested for culinary creations. Tree canopies, similarly, harbour bird-and-bee-friendly fruit and nuts.
A key pillar of the resort is – naturally – wellness. Founder and organic pioneer, Carole Bamford, worked with 1 Hotels to create an 18,000ft2 Bamford Wellness Spa, where services include a cryotherapy chamber, hyperbaric chamber, infrared saunas with halotherapy, Dreampod ice baths, a Somadome meditation pod, and a salt pod flotation chamber. Meanwhile, a 10,000ft2 Anatomy fitness centre is helmed by former NFL athlete Marc Megna, offering individual and group workout spaces. The outdoor beachfront jungle gym provides an open air, oceanfront free weight experience, with equipment fashioned from invasive Albizia wood, extracted from a local forest preserve.