1 Hotel Mayfair – the brand's first London property – is set to open in summer 2023. The 181-key hotel, which will be SH Hotels & Resorts' UK and European brand flagship, aims to set a new standard in London for sustainable luxury.
The nine-storey property, which will overlook Green Park, has been designed by GA Group. A reimagination of an existing building, the new hotel will maintain more than 80% of its previous structure so as to minimise the environmental impact of renovation and reconstruction, with sustainability centred throughout design and construction. Sustainably sourced and recycled materials have been used throughout, including reclaimed metal floor tiles and solar panels, while large areas of green living walls will appear across the whole site.
More than 200 plant species will be featured within the hotel, with moss walls in guestrooms, as well as timber flooring crafted from fallen trees on the Windsor Estate. Other design elements woven throughout the property include reclaimed Yorkshire dry stone walls, a reception desk created from one naturally felled piece of wood from Sussex, sliding rattan panels – a nod to the picnic baskets commonly found in Green Park – and a leafy chandelier crafted from air plants. Original artworks are dotted across the site, chosen to convey important environmental messages, such as 'Flow' by marine-plastic artist Steve McPherson and Kate McGwire's feather sculptures.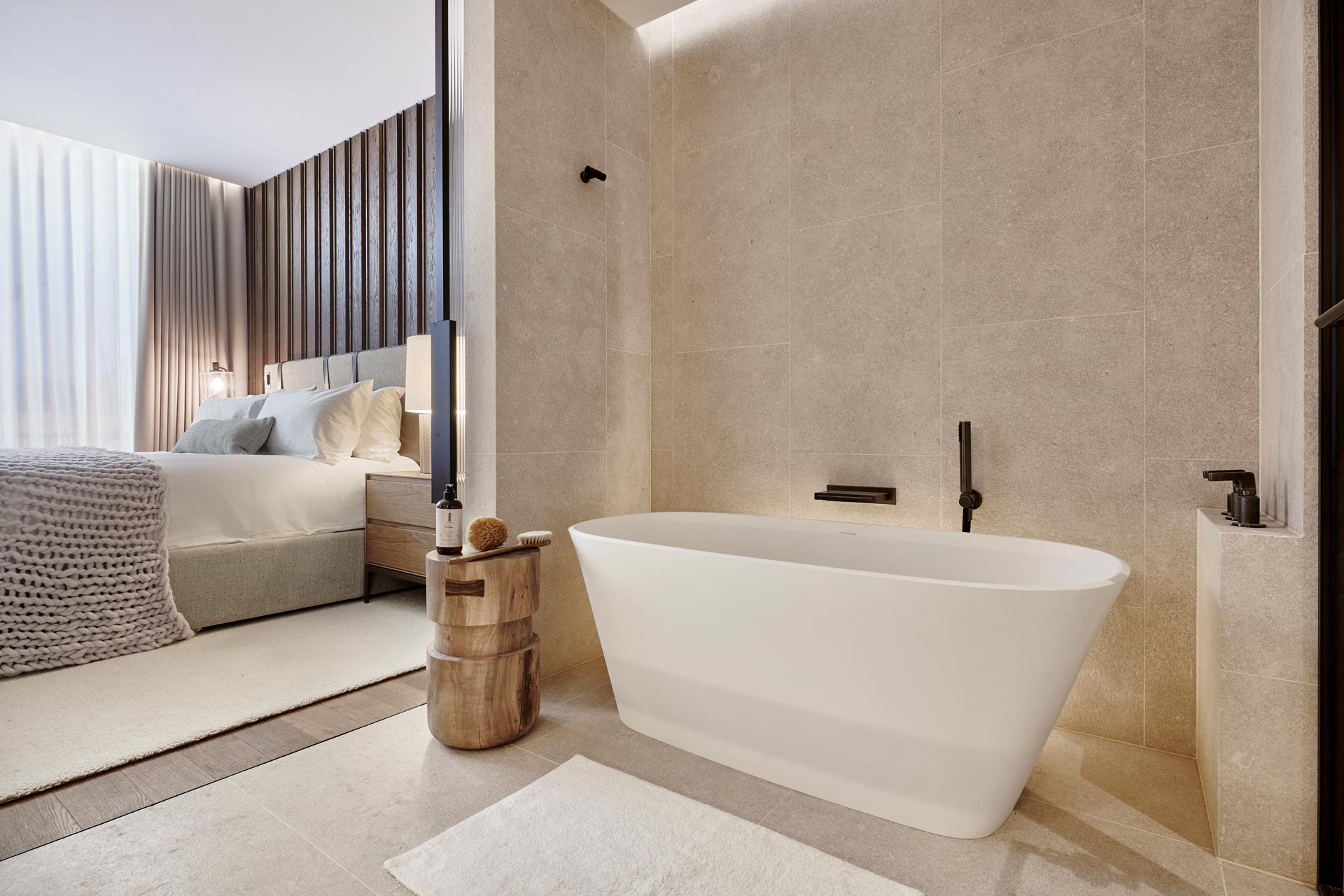 1 Hotel Mayfair will comprise various F&B spaces, including a new ground-floor restaurant led by Chef Tom Sellers. The restaurant, named Dovetale, will offer a menu rooted in seasonal produce, and bolstered by offerings from the grill, a raw bar and a wine programme. The restaurant will also be joined by an adjacent cocktail bar. For more relaxed dining, the hotel will house a daytime cafe and evening bar, with a communal table crafted from raw timber marking the space's centrepiece.
Finally, Bamford Wellness Spa will bring an extra layer of wellness to the hotel's additional amenities, with a designated space on the first floor allowing for experiences in one of three spa treatment rooms, and a workout space whose concrete waffle slabs and mirrors celebrate the original architectural detail.
1 Hotels, a nature-inspired lifestyle brand, launched in 2015 with properties in South Beach and Manhattan. The brand has now expanded across the globe, with sites operating in the likes of Hollywood, San Francisco and Toronto, and more in development in Hanalei Bay, Paris and Melbourne.