Minor International has unveiled the ultra-luxury design of Avadina Hills by Anantara, its resort-branded residences in Phuket.
Located on the exclusive Millionaire's Mile overlooking Layan beach, the boutique development balances elegant Japanese symmetry with Phuket's lush tropical environs to offer an alluring indoor-outdoor lifestyle for owners and residents. Nestled on a verdant, secluded hillside overlooking Bang Tao Bay, Avadina Hills by Anantara features 11 ultra-luxury villas ranging from 2,642 to 3,373 square metres in built-up area.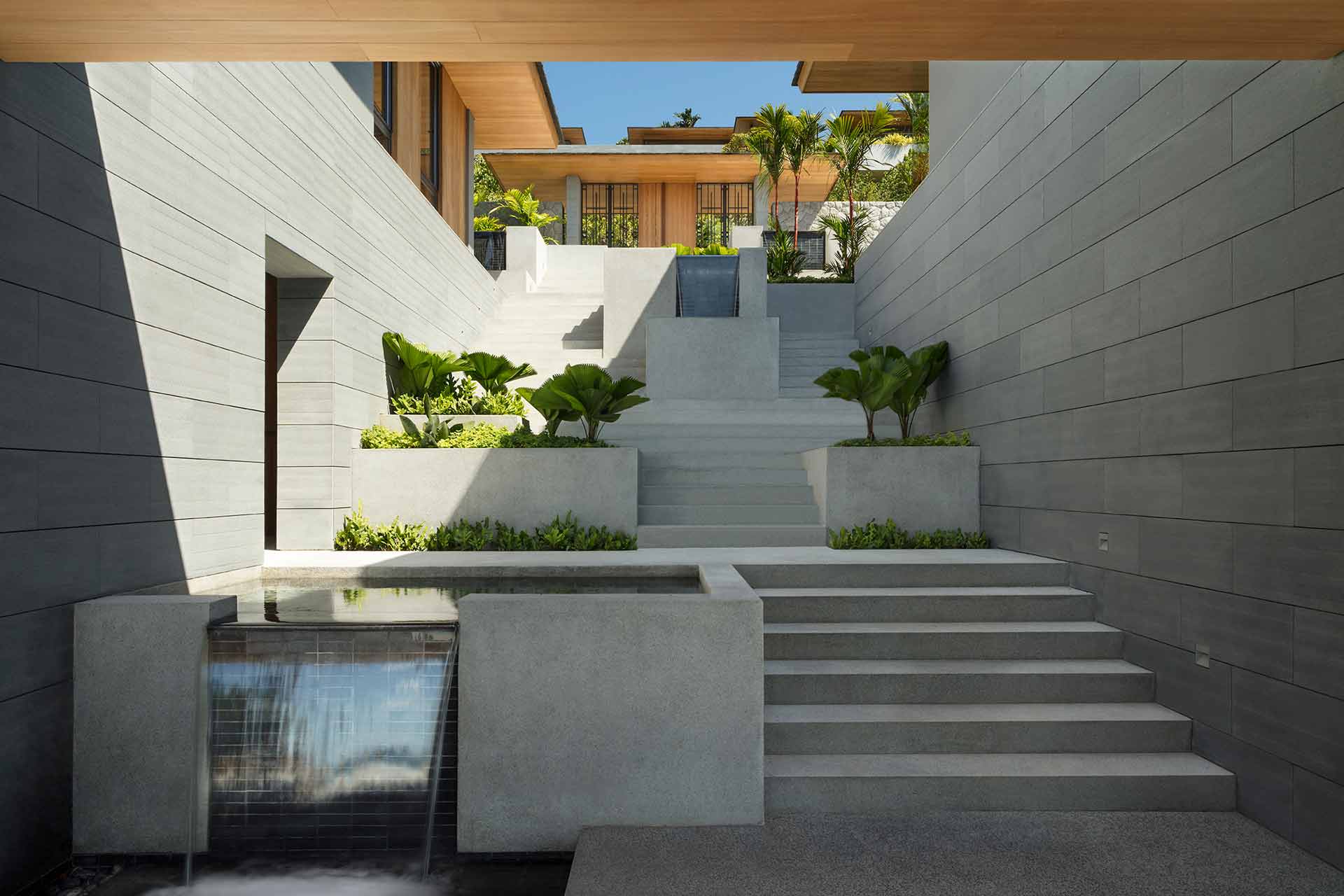 The architecture and interiors are inspired by the Japanese heritage of co-developer Kajima, as well as a shared passion for the simplicity and natural beauty of island life. Symmetry and balance define the architecture, with each space offering effortless indoor-outdoor living.
Upon arrival, a manicured drive leads to a modern statement entrance and a lush garden. A grand staircase descends to a spacious terrace, revealing sweeping views of the Andaman Sea.
The ground floor is divided between a dining room with a ten-seater solid wood dining table and modern show kitchen; and a spacious lounge on the other side. Floor-to-ceiling sliding glass windows open fully to reveal uninterrupted views and create a seamless flow between the indoor and outdoor spaces. Materials like granite floors and teak ceilings enhance each villa's integration with nature. The sizeable all-weather terrace features a 21-metre infinity pool, a covered sala and stunning ocean vistas. Both upper- and ground-floor master suites, as well as all guest suites, are elegantly finished, with a private terrace overlooking the sea.
In each villa, one or two unfitted lower floors provide a customisable expansion space, which can be tailored to suit individual needs, whether for additional guest suites, a private study, spa, cinema, gym or wine cellar.
Complementing the architecture, the interiors are a nod to luxury contemporary island living where style and functionality are harmoniously aligned. Each residence is fully furnished yet flexible, with clean lines, a vibrant colour palette and an array of natural materials including wood, bronze, bamboo and stone. Carefully selected furniture is in keeping with the aesthetic: symmetrical lines are punctuated by ocean-inspired colours and warm earth tones. True to Anantara's brand promise of indigenous discovery, artwork and decorative accessories vary by villa to reflect the region's culture and natural beauty while giving each residence a unique look.
Embraced by a rainforest canopy, each villa is set on a forested slope at varying heights. The landscape design showcases a balance of natural preservation, privacy and views. Lush greenery merges with the sea; the infinity-edged pool and granite tiles create a symphony of textures and colours; tropical plants and natural foliage grow side-by-side, blending each residence into the site's contours and respecting its botanical diversity. Each villa is separated by a private garden to allow residents seclusion and full enjoyment of outdoor living. As much as possible, existing trees have been preserved, creating a visual frame that is unique to each villa, while accenting the views over the Andaman Sea.
Avadina Hills by Anantara is the second branded residential project under Anantara, Minor International's luxury hospitality brand, in Phuket. Minor International's real estate portfolio currently comprises nine branded residential developments in Thailand, Malaysia, Indonesia and the UAE under the Anantara, Four Seasons and St. Regis brands.