HBA San Francisco has unveiled interior renders of The St. Regis Los Cabos, slated to open in fall 2022.
Situated within the luxury resort community of Quivira at the southern tip of Mexico's Baja Peninsula, the 33-acre development will become the first St. Regis property in the region and comprises 20 guestrooms and suites, 74 residences and a variety of amenities spread along 12,000 feet of pristine beachfront.
HBA's temporal design will be rooted in a modern yet authentic Mexican aesthetic, using traditional materials that honour the area's surroundings and culture. Colours, patterns and textures inspired by the sea, along with windswept rocks and rugged granite cliffs, will further reinforce this connection to the landscape.
"Our design will create a modern inhabitation of the landscape, a sanctuary translated into a relaxed luxury that feels immersive for the guest. On one side is the sea crashing against the granite cliffs while the other faces the shelter of the bay, and direct ahead are breathtaking views as far as the eye can see," says Cynthia Peller Hum, Associate at HBA San Francisco. "The surrounding landscape makes this property a perfect enclave and enduring respite that intuitively incites constant discovery, encouraging the guest to be present and to return time and again for a new, authentic experience."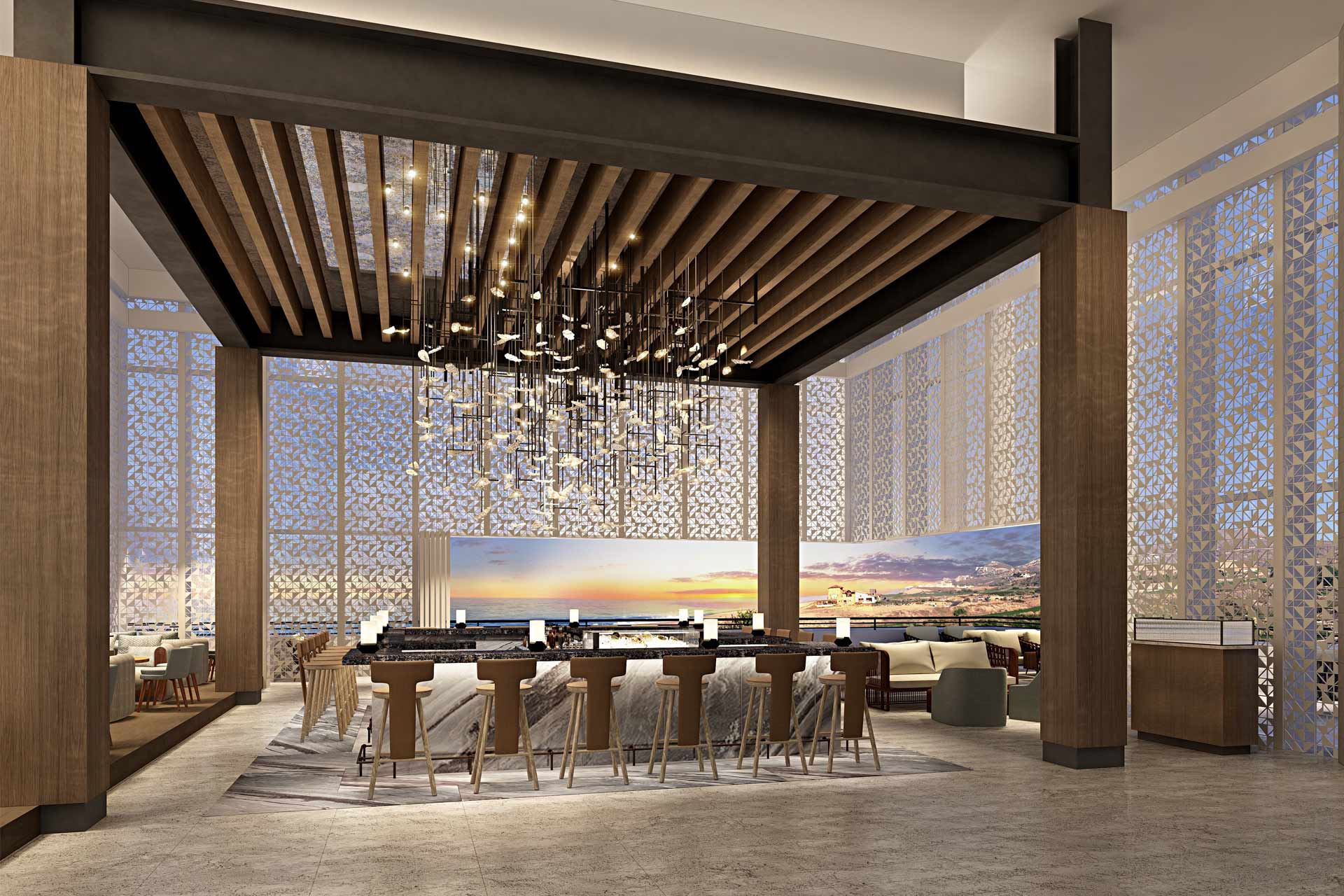 The St. Regis Bar will be framed by walls of sculptural ironwork in a filigree pattern and a wood-beamed trellis, as well as lounge-like seating to create a relaxing atmosphere throughout the day, while the wider F&B offer will comprise a specialty restaurant, an intimate bar, a show kitchen counter and a chef's table.
"So much of the property's details are artisan inspired and an expression of our own journey through discovery in writing the narrative of this project's design," Peller Hum adds. "We travelled to Oaxaca where we immersed ourselves in the city's cultural traditions, drew inspiration from the beautiful ateliers, and collaborated with local artists to realise handmade goods in a modern way while honouring their craft and techniques. Each piece is curated with its own story and will be layered into the guest experience through a variety of touch points, some more overt than others, but all intentionally authentic."
Guestrooms will boast a macramé canopy bed facing the sea, while on the terrace, hammocks and a day bed for two are Mexican in character and feature pillows encased in custom-crafted fabrics. Bathrooms will be equipped with a double vanity, dry vanity, bespoke tub and pass-through shower, while a wall of tiles – punctuated by glass that draws the eye to the ocean – will be finished in an ancient medium and cool hues.
CREDITS
Photography: © HBA San Francisco