Q&A: Avenue Interior Design discusses the impact of coronavirus on the hotel landscape
Countries around the world are making tentative steps towards recovery following an unprecedented year, yet there remain concerns amongst operators and travellers on what will become of the hospitality industry.
To explore how Covid-19 has already transformed the hotel landscape, we caught up with Andrea DeRosa and Ashley Manhan, founders of Los Angeles-based studio Avenue Interior Design, whose recent projects have included Palms Casino & Resort  in Las Vegas, The Ramble in Denver, and SLS Baha Mar in The Bahamas.
---
How has the pandemic affected the design of hotels, in particular public areas?
Lobby lounges, meeting spaces and restaurants within hotels inherently emphasise shared experiences. The pandemic has required all of us – designers, owners, operators and guests alike – to redefine our experiences within, as well as our expectations for, these spaces. At the onset of Covid-19, there was an abundance of sorrow, disappointment, a longing to go back to our 'normal' way of life. As restrictions and use guidelines were modified, so did our mindset. Suddenly, we were happy to just be able to dine out – never mind the temporary FF&E or limited menu. The new guidelines and restrictions instituted on our daily life have reinforced the importance of the hospitality industry and its profound effect on our health and happiness.
Have you had to make midstream adjustments in projects you had begun before Covid-19?
Cleanliness has always been of paramount importance within the hospitality industry, but the dialogue surrounding the maintenance and durability of materials and finishes for these spaces is certainly front of mind as a consequence of the epidemic. As such, we're starting to use more vinyl for upholstered seating, glass and stone tops on tables and staying cognisant of vertical surface finishes in heavy communal areas, knowing that disinfecting procedures in hotels can often wreak havoc on finer finishes and materials.
How important will flexibility be for designers going forward?
Flexibility has long been one of the biggest buzzwords for our clients and for good reason. It simply allows for properties to pivot and reposition a space if the originally intended purpose evolves or exceeds expectations. We see this in abundance within restaurant layouts. While we all love a booth table, we certainly don't love a 45-minute wait for one. Utilising modular components like a series of freestanding two-top and four-top tables allows for maximum flexibility in the event we have to comply with distancing guidelines or reduced group sizes. Mixing in various seating styles allows for an infusion of visual interest while maximising occupancy. Additional consideration for how interior and outdoor spaces connect is also a hot topic. Now more than ever, it is imperative that plans be in place for spaces to expand to capture any usable real estate. As patrons and guests during this unprecedented time, we've been forgiving as hotels and restaurants have attempted to problem solve, strategise and adjust their layouts according to new compliance guidelines. That being said, moving forward we must consciously design for intentional flexibility that will offer the least amount of disruption to guest experience – and operations – in a time of need.
What changes would you like to see become permanent in the future?
We anticipate a number of permanent modifications to our interiors and experiences as a result of last year's events. For one, we'd welcome more automated, touch-free or motion activated features, especially when it comes to plumbing fixtures and lighting. Not only is it convenient and clean, but it's sustainable. Until this year, working from home was widely romanticised. And then suddenly – seemingly overnight – the vast majority of non-essential workers found themselves scurrying to structure something resembling a home office. A quiet space, a functioning scanner/printer, reliable Wi-Fi and a comfortable chair instantly became the most coveted home essentials. Once we get the green light to travel freely, we suspect we're going to see a surge in travellers looking for hospitality venues that cater to those of us seeking a work-cation and in turn capitalising on the 'work-from-anywhere' mentality that so many of us embraced during 2020.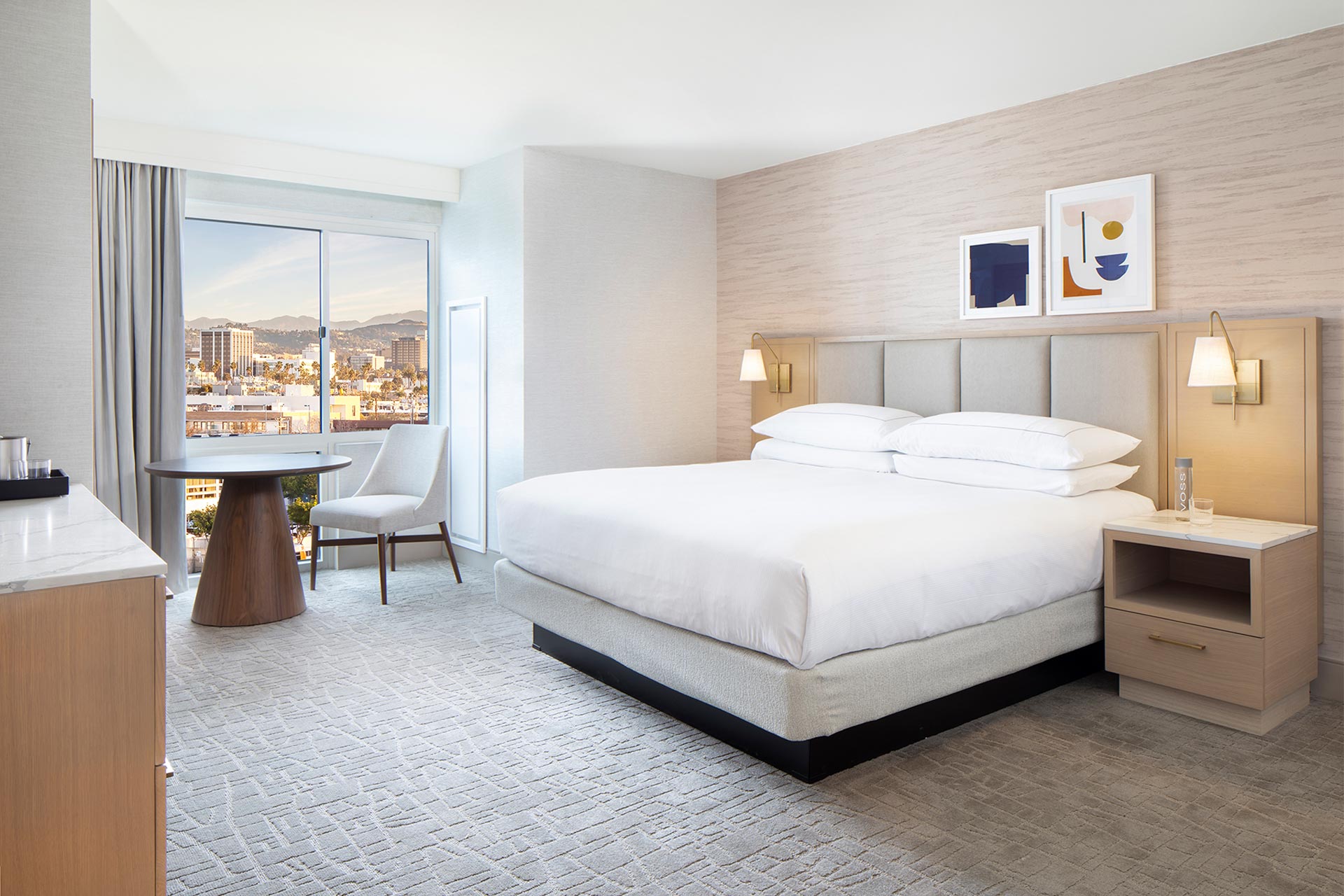 Can you tell us about some of the projects that you're currently working on?
We love projects in our own backyard, and we're thrilled to be involved in a number of high-profile hospitality scopes here in Southern California. We'll soon be unveiling a fully renovated, 289-room Hilton hotel in Santa Monica just steps away from the city's promenade, while we've also been collaborating with an Indian gaming group on a huge expansion project – slated to open this Summer – that has allowed us to evolve their brand and will garner lots of attention from both Angelinos and out-of-state visitors.
Where do you see hotel design headed in the future?
Good design often transcends trends, instead opting to focus on principles like the integrity of materials, spatial balance, form and scale. Intentionally considered materials, how they look and feel as well as how they interact with the rest of the space, are essential. They make a space feel right – a feeling that is reassuring and exudes an emotional comfort. As we put 2020 behind us and look ahead to the future of travel, we believe this component of implied emotional comfort will become a fundamental part of design.
CREDITS
Photography: © Avenue Interior Design